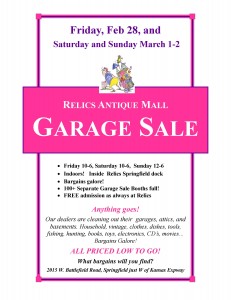 Relics Antique Mall Garage Sale
100+ separate Garage Sales under one roof, in addition to our 400+ regular antique booths.
Feb-28-March 2, Friday and Saturday 10 a.m. to 6 p.m. and Sunday 12 p.m.-6 p.m.
Held inside the back portion of Relics Antique Mall, Springfield location, at 2015 W. Battlefield Road.
This is a good, old fashioned, garage sale, with low-to-go prices!
Anything goes! Unlike our usual high standards of mostly antiques and collectibles, during this special event, there will be electronics, clothes, sporting goods, used furniture, tools, etc. You never know what our dealers will have unearthed from their basements, garages and attics by then.
Free admission as always at Relics Antique Mall & Tea Room. 417-885-0007
Plan on lunch in our delicious Tea Room. Amazing homemade soups, sandwiches all served on freshly baked bread made that morning at Relics…….
Best in the world Waldorf Chicken Salad stuffed with grapes, apples, seasoned chicken, etc, served on a baked fresh at Relics Croissant, Slow Roasted Beef, Sauteed Cabbage Reuben……
Unique salads like strawberry fields,
Flakiest pastry you've ever had quiche….
And the desserts….. oh my goodness!…Warm Scone filled with cranberries and nuts served with Devonshire Cream and freshly made jam, Lemon Peel Tart, Island Carrot Cake, Warm Brownies a' la mode, Flourless Chocolate Torte, Salted Carmel Cheese Cake, Warm Salted Caramel Apple Pie….
Don't forget our addictive Apricot Mango Iced Tea, 15 hot teas from which to choose, each served in a fancy, vintage, silver tea pot, Butter Toffee Coffee, mmmmmmmm.
———————————————————–
like us on facebook:
facebook.com/relicsantiquemall and
facebook.com/relicsantiquemalltearoom
————————————————————-
web site: relicsantiquemall.com
————————————————————–
Relics Antique Mall & Tea Room
Missouri's Largest Antique Mall
2015 W. Battlefield Road
Springfield, MO 65807 , 417-885-0007, 10-6 Mon-Sat & 12-6 Sun.
————————————————————————————-
Relics Antique Mall Tea Room, Springfield, 417-885-0013, 11-3 Mon-Sat & 12-3 Sun
—————————————————————————————
Relics Antique Mall of Mount Vernon
1001 Daniel Drive
Mount Vernon, MO, 417-466-2646, 9-5 Mon-Sat & 11-5 Sun